Offices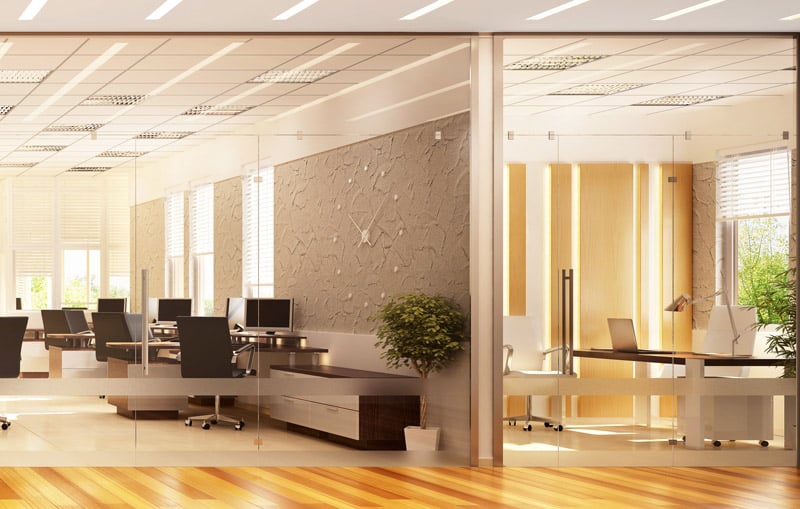 Acoustic services for office buildings
Offices can be noisy places, and this can have a negative impact on employee productivity. When working in an open plan office, there are several different problems to contend with. Such as, speech, telephones, ventilation systems, external sources, footsteps, appliance and artificial masking. Therefore, making it difficult for employees to concentrate and communicate. This is why office acoustics is becoming increasingly recognised as an important part of the design process. 
Speech privacy and intelligibility can also be office problem where rooms have not been designed with acoustics in mind. For example, in meeting, interview or consultancy rooms, where conversations must remain private. Or, in conference rooms where high speech intelligibility is needed. 
A common problem is poor sound insulation between offices. Where internal wall partitions have gaps at either the top and/or bottom which causes excessive flanking. This allows airborne sound to travel through the gaps.  
Purpose of Office Space
When looking at the office acoustics, we need to understand the intended purpose of the room. As this will determine the acoustic design criteria for the room. There may also be more than one purpose for rooms and offices. Therefore, when looking at the acoustic design of an office, it could cover a range of issues, including: 
Areas 

that are 

qui

et

,

 

suitable 

for concentration and discussion

s

.

 

Confiden

tiality or speech privacy from other areas

.

 

 

H

igh speech clarity

 for conferencing

.

 

The ability to mask the conversation of others.

 
How Sound Solution Consultants Can Help
Our expert consultants have years of experience in office acoustics and have worked with businesses of all sizes. On a variety of projects requiring tailored solutions. We pride ourselves on putting our clients first, finding the right solution and avoiding unnecessary costs. 
We can help with the planning and designing stage of new office builds. Which is often the most cost-effective way. We can identify all areas where acoustic treatments will be required and advise on the best way to install for the maximum benefit.  
Furthermore, we can advise on existing offices. Providing sound tests, diagnosis and remedial guidance to improve the issue to a manageable level. While always minimising costs. 
Acoustic Design 
Sound Solution Consultants (SSC) can work alongside your team of architects, builders and developers to create an office that is pleasing on the eye. As well as, being acoustically compliant. Therefore, providing a productive working environment for your employees.  
 We have acoustic modelling software that will help us to evaluate the internal sound levels within an open plan office building. So, that the placement of acoustic screens and absorption can be optimised.  
When assessing office acoustics, we refer to range of guidance:  
I

ndoor ambient noise criteria and sound insulation for offices

.

 

BREEAM UK New Construction Non-domestic buildings Technical Manual (2014)

.

 

The British Standard BS 8233:2014 Sound Insulation and noise reduction from buildings

.

 

The British Council for Offices Guide to Specification (BCO, 2014).

 
Testing & Validation  
SSC can provide testing and validation services for office buildings. As well as diagnosis and remedial guidance. 
Sound Insulation (UKAS accredited).

 

Reverberation (UKAS accredited).

 

Noise levels from mechanical and electrical services

.

 

Intrusive noise

.

 

Speech Transmission Index (STI).

 
For medium and large office spaces, SSC are also able to complete field testing and validation to BS EN ISO 3382-3:2012 Acoustics — Measurement of room acoustic parameters Part 3: Open plan offices. 
Acoustic Materials
We also provide acoustic materials at very competitive prices. SSC give free and impartial advice. If you need any assistance on the best sound proofing products to choose for your project. Give our team a call and they will be more than happy to help. 
Thermal & Acoustic Installation  
Need advice?
If you require advice on any of our office acoustic services. You can call us, complete our 'Request a Call Back Form' or drop us an email at [email protected] . Our professional and knowledgeable team are here to help.