Acoustic Design Advice for Schools | BB93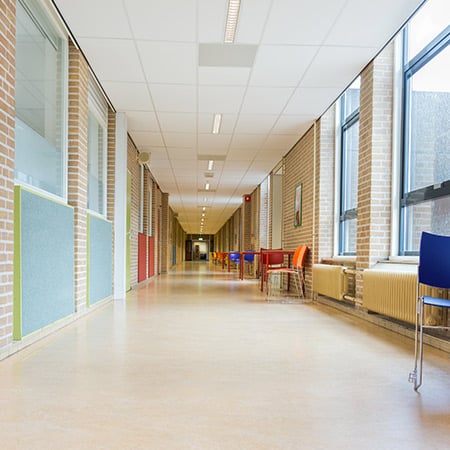 Acoustic design for schools
Acoustic design is fundamental to the quality of school buildings; to create suitable acoustic conditions that enable effective teaching and learning. School acoustics are so important that they have applied to all new building and material change of use buildings since 2003, under Requirement E4 of the Building Regulations.
Research has shown that excessive noise and poor acoustic design can have a detrimental effect on pupils' academic performance or teachers' vocal health. The negative effects of poor acoustic design are particularly impacting for special pupil groups including hearing impaired and those with additional leaning needs; where more-stringent acoustic standards can apply.
Sound Solution Consultants (SSC) can provide detailed acoustic guidance for the development of school buildings in accordance with the Department for Education Acoustic Design of Schools: Performance Standards, Building Bulletin 93 (BB93). Design guidance should be provided from the outline project stage to include:
Indoor ambient noise levels in unoccupied spaces
Airborne sound insulation between spaces
Airborne sound insulation between circulation spaces and other spaces used by students
Impact sound insulation of floors
Reverberation in teaching and study spaces
Reverberation and acoustic absorption in sports halls and swimming pools
Sound absorption in corridors and stairwells
Open plan teaching and learning
Colleges, universities, higher and further education
Whilst Building Regulations Requirement E4 does not apply to colleges, universities, higher and further education buildings; the acoustic conditions of these buildings are of paramount importance to enable suitable teaching and learning environments.
SSC can provide detailed acoustic guidance for any level of academic building at outline stage, following the design principles of schools and topics covered by BB 93.
Testing and validation
There is no requirement in Building Regulations for acoustic commissioning of schools however the process is strongly recommended to demonstrate the project has achieved its acoustic design intent. Testing is often a requirement as part of client or contractual obligations, or if the scheme is to be appraised against BREEAM New Construction technical manual for non-domestic buildings.
SSC can provide testing and validation services for school buildings following the Association of Noise Consultants publication 'Good Practice Guide – Acoustic Testing of Schools'. A testing programme should be agreed prior to attempting (which should ideally exist prior to construction).
Sound Insulation (UKAS accredited to BS EN ISO 140-4 and BS EN ISO 140-7 at any customer site*)
Indoor ambient noise levels in unoccupied spaces
Reverberation time
*SSC is seeking to include both BB93 and ISO 16283 Parts 1 and 2 within its UKAS scope by July 2019. This does not exclude SSC providing accredited measurements of schools for indoor ambient noise level, reverberation time or sound insulation under its current scope.
In the event of a failure to meet the project's acoustic criteria, consultancy advice can be provided to achieve a suitable design standard.