Office Acoustics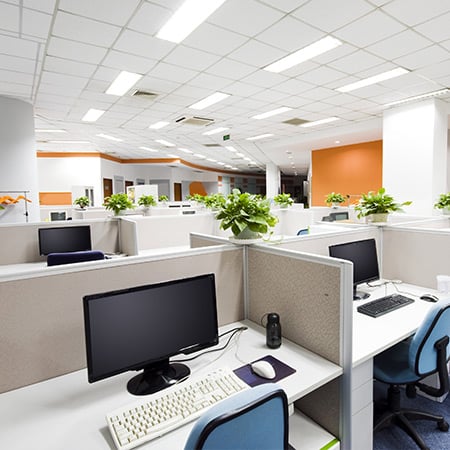 Acoustic design and testing for offices
Development that includes office spaces (including cellular or open plan offices, meeting, interview or consulting rooms) requires a range of acoustic provisions to create a suitable working environment.
Noises in open plan offices can include many different sound sources including speech, telephones, ventilation and external noise, footsteps, appliance and artificial masking. Research suggests that speech is the most annoying and the loudest sound source in open plan environments.
Good office acoustics is dependent on the proposed use of the offices spaces. The acoustic design of offices can cover a range of issues, including:
Areas that are suitable quiet for concentration and discussion
Confidentiality or speech privacy from other areas
High speech clarity for conferencing
Masking the conversation of others
Poor sound insulation between offices is a common problem that results from dividing office spaces within buildings that have unsuitable flanking elements (e.g. shared services and ceilings). Special attention is required in these offices to achieve suitable standards of sound separation between adjacent spaces.
Acoustic modelling can be used to appraise internal sound levels within open plan office buildings so that the placement of acoustic screens and absorption can be optimised. Reverberation control is important in office acoustics, particularly when considering acoustic zoning of working areas from break-out spaces.
Sound Solution Consultants (SSC) refer to a range of guidance when appraising office acoustics. In terms of indoor ambient noise criteria and sound insulation for offices, common guidance includes BREEAM UK New Construction Non-domestic buildings Technical Manual (2014), The British Standard BS 8233:2014 Sound Insulation and noise reduction from buildings and The British Council for Offices Guide to Specification (BCO, 2014)
Testing and validation
SSC can provide testing and validation services for office buildings.
Sound Insulation (UKAS accredited to BS EN ISO 140-4 and BS EN ISO 140-7 at any customer site)
Reverberation
Noise levels from mechanical and electrical services
Intrusive noise
Speech Transmission Index (STI)
For medium and large office spaces, SSC are also able to complete field testing and validation to BS EN ISO 3382-3:2012 Acoustics — Measurement of room acoustic parameters Part 3: Open plan offices.