Construction Noise and Vibration | BS 5228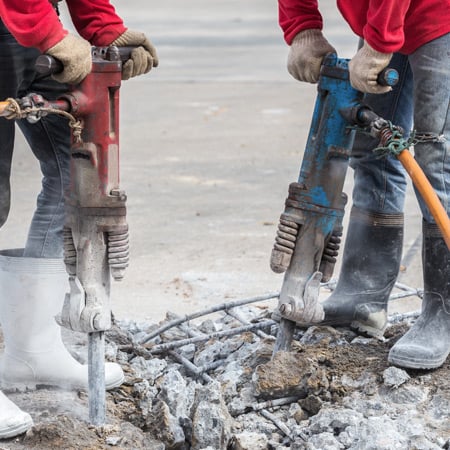 Construction noise and vibration assessments
Noise and vibration impacts from construction and demolition activities have the potential to cause high levels of disturbance and are an important consideration for any contractor or developer planning a new project to undergo some phase of demolition or construction.
Construction noise and vibration is normally assessed in accordance with the guidance of British Standard 5228 Code of practice for noise and vibration control on construction and open sites Part 1 – Noise and Part 2 – Vibration (as amended, BS 5228-1:2009+A1:2014 and BS 5228- 2:2009+A1:2014). Other Standard documents are often used following the detail of these codes of practice.
Sound Solution Consultants (SSC) have vast experience of providing detailed noise and vibration assessments in accordance with BS 5228, noise and vibration monitoring and assisting Section 61 consents.
Noise and vibration monitoring
At SSC we have a range of autonomous noise and vibration monitoring stations that can be deployed for long-term construction and demolition site measurements. We have the facility to offer mains, battery or solar powered stations to accommodate all noise and vibration monitoring requirements.
We use automated systems and an online functionality enabling levels to be viewed on office PC's and in the field. Automated alerts can be configured for noise and vibration, to be sent (via text message and/or email) as a warning when limit levels are encroached upon or exceeded.
Noise and vibration monitoring is normally essential in Section 61 consent applications. It is often the case that monitoring should occur over the lifetime of the construction therefore SSC offer very competitive rates on assisting long-term monitoring requirements.
Section 61 consent applications
At SSC we have experience of assisting with major project works and consent applications for the control of noise and vibration from demolition and construction sites. Section 61 of The Control of Pollution Act 1974 sets out the structure for this managerial process; where all applications are provided by the contractor undertaking the works.
Technical support is provided to the contractor in engaging with the Local Authorities prior to works. Noise and vibration predictions are provided as part of a formal Section 61 agreement, which in turn prescribes working limits and methods to be adhered to on site as part of Best Practicable Means (BPM) measures to control noise and vibration.