Industrial & Commercial Noise Assessments | BS 4142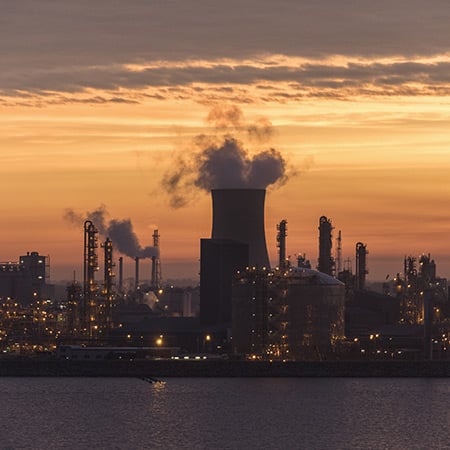 Industrial and commercial noise assessments
The British Standard BS 4142:2014 Methods for rating and assessing industrial and commercial sound describes methods for rating and assessing sound of an industrial and/or commercial nature. This includes sound from:
Industrial and manufacturing processes;
Fixed installations (e.g. mechanical and electrical plant and equipment);
Loading and unloading of goods and materials at industrial and/or commercial premises; and
Sound from mobile plant and vehicles that form an intrinsic part of the overall sound emanating from premises or processes (e.g. forklift trucks).
BS 4142 is commonly used as part of the planning and permitting process as part of a noise impact assessment for development. This can include new industrial facilities, air-conditioning condensers or residential units near existing industrial or commercial premises.
Sound Solution Consultants are specialists in providing noise impact assessments following the methods described by BS 4142. Our consultants are well-versed in the detail of BS 4142 and its application for industrial and commercial noise assessment.
We offer a quick turn around on our impact assessments, providing cost-effective services and mitigation advice.
Our assessment approach
Where BS 4142 reports are required for planning, we always determine specific Local Authority or local policy noise requirements prior to attempting. This approach ensures that the development objectives are defined and avoids any undue delay or request in the process.
We aim to reduce uncertainty in our assessment approach by considering several technical means following the requirements of the Standard method. This includes using:
Baseline sound levels over an appropriately long timeframe to provide a good indication of representative background and residual (i.e. pre-existing) sound levels. This is usually long enough to define entire day or night periods as required for assessment
Class 1 monitoring equipment with manufacturers accessories and field calibrations
Representative measurement locations
Data from site measurements or equipment manufacturers, in octave or third octave bands
Audio recordings to analyse existing sound in the environment
Reference calculation models (e.g. ISO 9613)
For developments where there are many sources or receptors, we often use environmental noise modelling to illustrate noise emission.
Mitigation measures are always provided following the principles of noise control, by reducing noise in the following hierarchy
At source
Along the transmission path
At the receptor
We aim to provide mitigation advice that is commensurate to any problem at hand, simple to employ and cost effective for the end user.
Our reports are always clearly detailed, providing policy requirements, raw data, calculations and mitigation (where appropriate) as well as the assessing consultants' experience. Naturally, some impact assessments in accordance with BS 4142 are very detailed and sometimes quite complex. BS 4142 assessments should only be attempted by appropriately qualified and experienced people.