Industrial & Commercial Noise Assessments | BS 4142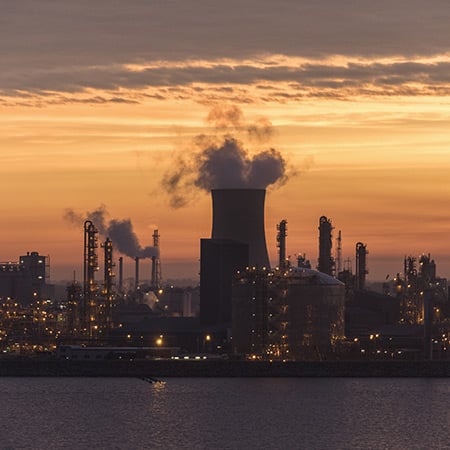 Industrial and commercial noise assessments
Noise impact assessments are used for developments that are noise sensitive, noise generating or both.  For example; new, noise sensitive residential units near existing industrial or commercial premises.  Or, new noise generating industrial facilities, that are near existing housing.
The assessment will usually form part of the planning or permitting process for the development. Furthermore, assessments can also be used to assist control measures in the event of a complaint.
We use the latest British Standard BS 4142:2014 +A1:2019 Methods for rating and assessing industrial and commercial sound. This details methods to rate and assess sound from:
Industrial and manufacturing processes.
Fixed installations (e.g. mechanical and electrical plant and equipment).
Loading and unloading of goods and materials at industrial and/or commercial premises.
Mobile plant and vehicles that form an intrinsic part of the overall sound emanating from premises or processes (e.g. forklift trucks).
Our assessment approach
If you are going through the planning process and require a BS 4142 assessment. At SSC, we always determine local policy requirements before starting out. This is because, noise policies often differ between Local Authorities. By understanding all the requirements from the outset, our report can be tailored to suit local requirements.
To reduce uncertainty in our assessment approach, we consider several technical means. Following the requirements of the Standard method. This includes using:
Baseline sound levels over a suitable time frame.
Class 1 monitoring equipment with manufacturers accessories and field calibrations.
Representative measurement locations.
Data from site measurements or equipment manufacturers, in octave or third octave bands.
Audio recordings to analyse existing sound in the environment.
Reference calculation models (e.g. ISO 9613).
For developments where there are many sources or receptors. We often use environmental noise modelling to illustrate noise emission.
Mitigation measures
We aim to provide mitigation advice that is simple to employ and cost effective for the end user. Following the principles of noise control, we reduce noise in the following hierarchy:
At source.
Along the transmission path.
At the receptor.
Our reports are always clearly detailed. Providing policy requirements, raw data, calculations and mitigation (where appropriate). As well as the assessing consultants' experience.
Information we will need from you
So, we can better understand all the requirements of your industrial and commercial noise assessment. We ask if you are able to provide the following information.
Site plans.
Proposed operational hours for the unit being installed.
Manufacturer specifications for the proposed unit to be installed.
A secure location to store our industrial noise survey equipment.
If you are unsure where to find any of these details. Our consultants will be more than happy to give you advice and guidance.
How Sound Solution Consultants (SSC) Can Help
Our consultants are well-versed in the detail of BS 4142 and its application for industrial and commercial noise assessment. We have worked with businesses of all sizes. On a variety of projects requiring tailored solutions.  SSC pride ourselves on putting our clients first, finding the right solution and avoiding unnecessary costs.
Need advice?
If you require advice on our noise and vibration assessments services. You can call us, complete our 'Request a Call Back Form' or drop us an email at [email protected] . Our professional and knowledgeable team are here to help.
Want to know more about the team? Why not take a peek at our 'Meet the Team' page.