Transportation Noise | BS 8233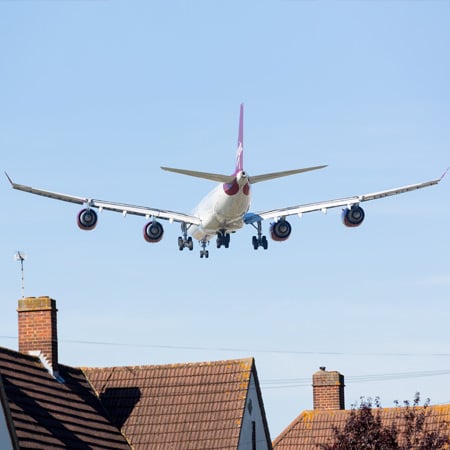 Transportation noise assessments
At Sound Solution Consultants (SSC) we can provide transportation noise impacts from common sources of environmental sound including road, rail and air traffic.
In the design of new dwellings, we use latest industry guidance from the Institute of Acoustics, the Chartered Institute of Environmental Health and the Association of Noise Consultants; entitled ProPG: Planning & Noise – New Residential Development. This document encourages better acoustic design for new residential development and aims to protect people from the harmful effects of noise.
ProPG reflects the aims of the National Planning Policy Framework (NPPF). This framework sets out the Government's planning policies for England and replaces former planning and noise guidance PPG24 (Planning Policy Guidance 24: Planning and Noise).
Our consultants use industry-standard calculation methods in the creation of sound insulation schemes for buildings, following methods from EN 12354 and BS 8233. We normally consider whole day and night time readings, as well as leading manufacturers' test data for windows and ventilation, as a basis for any predictions and to reduce uncertainty in our proposals.
Where ProPG and BS 8233 reports are required to support planning applications, we always determine specific Local Authority or local policy noise requirements prior to attempting. This approach ensures that the development objectives are defined and avoids any undue delay or request in the process.
We offer a quick turn around on our impact assessments, providing cost-effective services and mitigation advice.
Pre-occupation internal ambient noise level testing
It can often be required by Local Authorities as part of planning permission, that pre-occupation tests are carried out to demonstrate internal ambient noise levels (IANL) from transportation noise. This is the ultimate method to demonstrate compliance with suitable health criteria, but such testing is not carried out on all residential developments, or even in all rooms of a single building.
At SSC we will assist in agreeing a testing schedule and method with the relevant authority prior to attempting; unless otherwise provided in writing.
Road traffic impacts
The guidance to assess road traffic impacts normally follows The Calculation of Road Traffic Noise (CRTN) issued by the Department of Transport in 1988. There are various aspects to consider in reviewing development impacts which ultimately revolve around the difference in traffic flow caused by new development.
Noise modelling
We can provide noise modelling services for existing and proposed transportation schemes in accordance with industry standard methods.